If you are looking for your your little baby to stay dry and happy without the discomfort of wetness using these Mamy Poko Pants Extra Absorb diapers.
With an easy-to-wear diaper pants-style design and up to 12 hours of absorption, these diapers will take away your concerns about diaper changing.
It has maximum absorbent capacity to pulls away the wetness and the quick dry layer locks it inside the diaper to keep the baby's skin dry.
The soft elastic will be gentle on your baby's bottom and keeps the skin fresh, while also offering a snug fit.
The no-tapes design and side seams that can be torn open will be convenient for your while changing diapers. If you are buying in the bulk diapers your would get lot of discount in the prices – below list i have given for 52 pieces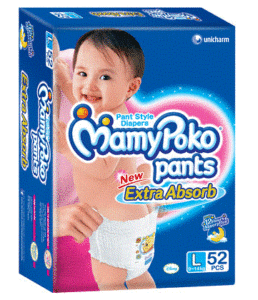 List Price: Rs. 699
Selling Price Rs. 636 9% OFF
(Free delivery)
Our Price: Rs.544