Price Details:
Original Price: Rs. 845
Discounted price: Rs. 475
You save: Rs. 370 (44 %)
(Inclusive of all taxes)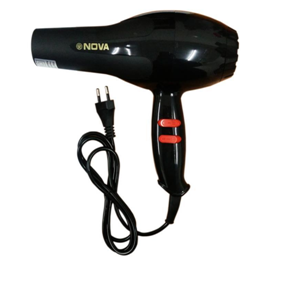 Description:
This summer, add beauty to your hair with this convenient and super easy-to-use hair dryer by Nova at an amazing offer. The product is originally priced at Rs. 845, but a brand new one is being offered at Rs.475. You would of course not like to miss this opportunity. You also get free shipping and there are numerous payment options available including Credit card, EMI, Debit card, Online Bank Transfer. You can also opt for Cash on Delivery. Replacement and refund for this product is also covered through.
Brand: Nova
Category: Professional Hair Dryer
Suitable for: Men and Women
Colour: Jet Black
Condition: Brand New, Unused
Power: 1800W
Voltage: 220 V
Handle Type: Not foldable
Special offers/ Product Promotions
Credit card, EMI, Debit card, Online Bank Transfer, and Cash on Delivery available
Free Shipping
Flat Rate Courier – Delivery anywhere in India
Replacement and refund for this product is covered through eBay guarantee
Reviews/Comments
Amazing offer, Best quality product, Best deals on eBay