Prestige Vegetable Cutter Chopper(Green) @ Rs 1309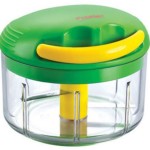 List Price: Rs. 1,395
Rs. 1,309 6% OFF
Selling Price
+ Rs 100 Delivery ?
A handy kitchen essential, this Vegetable Cutter Chopper from Prestige is designed to assist you in your cooking task.
Ergonomically designed from high quality plastic, this chopper ensures superior performance for years.
This vegetable cutter is provided with stainless steel blades that finely chop vegetables and fruits in no time.