Price Details : 
Price:      INR 4909
Sale:      INR 3999
You Save   : INR  910( discount:18 %)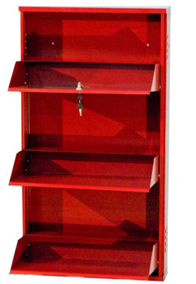 Description
Your priceless shoe, flip-flop, collections require every maintenance it could get.
But the safeguarding could be startlingly easier than one can think. The cobwebs, gritty particles, if settles on the collection, over a period of time, could easily hamper the quality and ultimately hinder your comfortable experience of wearing it .
Made of primary quality steel with 100% powder coating.
Lock and key arrangement.
Ventilation facility also available to expel unpleasant smell from shoes.
Number of shelves is 3 with matte finish.
3 years manufacturing warranty.
Special offers and product promotions
Review Comments
Cheering reviews by the customers