If you are looking to buy the best priced microwave oven for your kitchen needs to looking for best branded ovens and trusted. Then you are in the right place where I have provided the complete list of branded microwave oven(Solo or Convection  buying by the most people online and it has great positive feedback to
Samsung MW73AD-B/XTL 20 L

The Samsung MW73AD-B/XTL is a convenient solo microwave oven with 20 litres capacity and is ideal for a family of four members.
With a minimalistic design, this 20-litre Samsung microwave oven features a slim size exterior, a wide door screen and a stylish blue LCD panel. This microwave oven will blend easily with your contemporary kitchen style.
With Samsung's Triple Distribution System, you can be certain that your food is cooked evenly always. TDS ensures that the microwaves are widely distributed with the help of an aperture antenna and two additional slot antennas.
Samsung's Rapid Defrost lets you defrost frozen foods easily and quickly so that you can prepare delicious food in less time.
The Child Safety Lock keeps your children safe from any microwave oven related dangers. Moreover, it is very easy to clean this microwave oven since the inner cavity does not have any corners.
Save standby power up to 40% with the Eco Button on your Samsung Solo Microwave Oven. This oven has a power output of 800 watts.
MRP: Rs. 5,790
Rs. 4,750 17% OFF
Selling Price
(Free delivery)

IFB Convection Microwave Oven

Developed with the best of features in a neat design, the IFB 23SC3 23 L Convection Microwave Oven makes the ideal choice for efficient cooking.
This microwave comes with a Keep Warm feature that maintains a constant temperature to keep cooked food warm. The Steam Clean and Deodorize features help keep the appliance clean and germ-free. With the Quick Start feature, all you need to do is set the weight and begin heating or cooking. Instant microwave is an option for easy operation.
Weight Defrost
With multi-stage and combination cooking options, the microwave lets you cook a variety of dishes in minutes. The 10 auto cook menus gives you the option of cooking all your favourite dishes without requiring much effort. The Weight Defrost function lets you thaw food based on how much it weighs.
Designed with a capacity of 23 litres, this Microwave lets you cook moderate quantity of food at a time. The appliance comes with superior stainless steel cavity that provides better endurance. The LED display makes it convenient to operate this microwave.
The microwave comes with a Child Safety Lock to keep the appliance safe from kids. It is also manufactured with sensor malfunction protection and overheating protection that prevents the appliance from getting damaged.
MRP: Rs. 13,250
Rs. 9,499 28% OFF
Selling Price
(Free delivery)

LG MC2883SMP 28 L Microwave Oven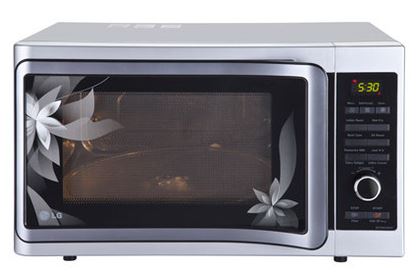 Healthy and tasty cooking now made easy with the LG convection microwave oven ideal for a family of 4 to 6 members.
The compact LG Microwave Oven comes with an operating capacity of 28 litres, a stainless steel cavity, and a tact dial type. The stainless steel cavity ensures even cooking by uniformly distributing the heat inside. Also, it increases the durability of the microwave oven. The tact dial type makes operating this microwave oven easy.
Thanks to the Diet Fry feature, you can gorge on all your favourite crispy snacks without feeling guilty about eating unhealthy. An ideal feature for the health-conscious, Diet Fry lets you prepare delicious snacks using very little oil.
Get rid of the time-consuming traditional method of boiling milk and switch to this LG microwave which comes with the Pasteurized Milk technology. This hassle-free method of boiling milk is hygienic and preserves all the nutrition in the milk.
5 Power Levels
This LG microwave oven comes with the Intellowave technology that makes sure your food is cooked quickly and evenly. The motorised rotisserie of the oven helps in perfect grilling. The five adjustable power levels offers cooking flexibility.
The LG microwave oven is capable of multifunction cooking – convection, grill, solo, and combination mode – to suit all your cooking needs. The 151 Auto Cook Menu which includes 101 Indian Auto Cook Menus comes as a blessing for amateur cooks.
MRP: Rs. 18,090
Rs. 15,990 11% OFF
Selling Price
(Free delivery)

Electrolux 23 L Microwave Oven

Whether you have limited time to cook or find cooking too elaborate, this Electrolux 23 L Convection Microwave Oven makes it easy for you with a variety of auto cook menus and modes.
Designed with 101 auto cook menus, this microwave makes cooking an extremely simple task. The appliance also comes with a tandoori heater to help grill food making it crispier and tastier.
With a capacity of 23 litres, this Electrolux convection microwave is ideal for a moderate sized family. It features a tact dial that allows easy operation of the appliance.
Developed with the Smart Wave technology, this microwave provides consistent power for uniform cooking retaining the nutrition in the food. It makes sure that there are no cold spots in the food while you heat dishes.
The microwave has a power output of 900 watts. While on the convection mode it has an output of 1950 watts and 1200 watts in grill mode.
The microwave is integrated with a child lock that lets you keep the appliance locked preventing accidents when you have children around at home.
MRP: Rs. 9,990
Rs. 7,139 28% OFF
Selling Price
(Free delivery)

Bajaj 17L Solo Microwave Oven

Perform easy cooking and reheating using this Bajaj 1701MT 17 L Solo Microwave Oven. The appliance offers up to 5 power levels and a 30-minute cooking time.
With a 17 litre capacity, the Bajaj solo microwave is ideal for small families. The microwave features a mechanical control that allows easy operation while setting the power and cooking duration.
The microwave comes with 30 minutes of cooking time that allows you cook as well as reheat food. With the cooking completion indicator, you needn't keep a constant check on the food being cooked once it has been timed. The appliance has a defrost function that helps you easily thaw frozen food.
The Bajaj microwave is designed with a timer feature that will help you set the cooking duration.
The appliance has a power output of 700 watts and offers up to 5 power le
MRP: Rs. 5,290
Rs. 3,999 24% OFF
Selling Price
(Free delivery)

How & Where to Buy
Click on the link or button "Buy Now"
It takes to online shopping store for eg. flipkart.com/amazon.in
Click on buy now to add to cart. ~Pay using any ATM / Debit / Credit Card, Net Banking, COD etc.
Enjoy the shopping experience by saving the money and your time!