Price Details:
Original Price: Rs. 1700
Discounted price: Rs. 1299
You save: Rs. 401 (24%)
(Prices are Inclusive of all Taxes)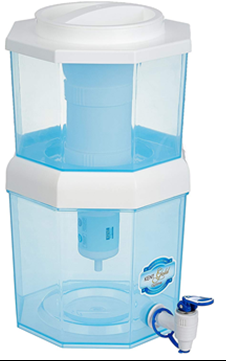 Description:
Water borne diseases can kill you anytime, even before you understand it properly. So, do not let that happen. Remember, Prevention is always better than Cure. Hence it is always better to take precautions from beforehand. The KENT Gold Optima 10-Litres Gravity Based Non-Electric Water Purifier will purify your drinking water to the fullest so that you are safe from every water-borne disease ever. This is however a limited period offer and valid only till the stocks last. So, hurry up. As it is, there are only a few items left in stock. So, add it to your cart right now or you will have to regret later.
Brand: Kent
Model: KENT Gold Optima 10-Litres Gravity Based Non-Electric Water Purifier
Capacity: 10 litres
Colour: White / Aqua Blue
Net weight: 1.89 Kg
Material: Plastic
Package Contains: Water purifier, User manual, Warranty card and Service center details
Water Output: Ambient
Features: Purification by hollow fiber ultra-filtration membrane, use of nano-silver carbon for better disinfection of water, long life membrane expected to last up to 4000 Litre, transparent tank made of unbreakable ABS food-grade plastic, no chemicals like Chlorine, Bromine or Iodine used for purification thereby providing healthier and tastier drinking water, ideal for entry level water purifier
Special offers/ Product Promotions
5% cashback with SBI Credit Card
Pay on Delivery (Cash/Card) eligible
EMI options available
Payment through credit cards, debit cards, NEFT, and bank transfer
Free Shipping
Reviews/Comments
Great quality