Price Details:
Original Price: Rs. 2999
Discounted price: Rs. 1099
You save: Rs. 1900 (63%)
(Prices are Inclusive of all Taxes)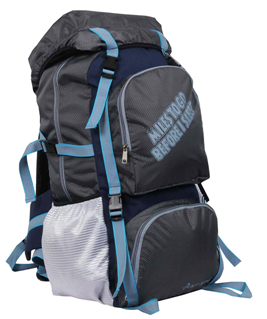 Description:
Travelling is all the more easy and convenient now with Pole Star " Rocky " 60 Lt Grey Rucksack (Hiking backpacks) which are made especially to suit your travel needs. When you travel alone, you do not need to reduce your essentials just for the sake of carrying because these luggage bags come with four wheels which you can roll easily without caring two straws, even if the space is narrow. This is Amazon's deal of the day today and you simply cannot miss this offer, because this bag is originally prices at Rs. 2999. Now at Amazon, you can bag it fir Rs. 1099 only. This is however a limited period offer and not many items are left in stock. So add it to your cart now or you will have to regret later!
Brand: Pole Star
Model: Pole Star " Rocky " 60 Lt Grey Rucksack
Material: Polyester
Colour: Black
Number of wheels: 4
Volume Capacity: 60 Liters
Shell: Soft
Dimensions (l X b X h): 22cm X 68cm X 34cm
Special Features: Spacious Compartment, Comfortable & Durable, Back Padding, Zip Closure, Shoulder Strap, Water Bottle / Umbrella Pouch, waist belts
Special offers/ Product Promotions
5% cashback with SBI Credit Card EMI
Pay on Delivery (Cash/Card) eligible
Hassle free returns
Payment using credit cards, debit cards, wallets, bank transfers and cash on delivery
Delivery in 3 – 5 working days
Free shipping
Reviews/Comments
Great quality and amazing offers