If you are looking to buy surprise gifts for your little baby then I have provided the 5 best gifts which you can choose from the below options
Winfun My Flip Up Sound Phone
This phone is Inspired by real smart phones, Winfun offers this My Flip Up Sound Phone for your kid that has real phone effects.
If your child is someone who is inspired by gadgets and smartphones, then this will be a perfect gift.
This cute Phone comes in a flip flap design and features four fun shaped buttons that play melodies and vibrant sound effects when pressed, a light button, ring tone, reflective mirror and star shaped antenna.
This Flip Up Phone will enable your child to get associated with different sound effects and music world.
This fun playing Flip Up Sound Phone is ideal for both boys and girls aged 3 months and above.
This colourful Sound Phone is powered by AA Batteries.

Winfun Spin N Pull Turtle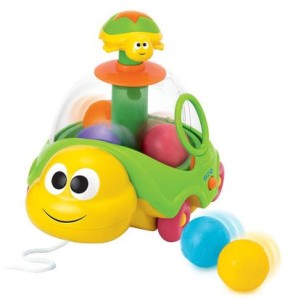 Winfun Spin N Pull Turtle is the perfect toy for your toddlers aged above one year. Irrespective of the gender, this toy will give confidence to your child to walk ahead merrily. As your child walks pulling the toy along, the balls spin behind them playing sweet melodies.
This two AA batteries enabled toy also teaches your child to count to five while walking with the five colorful balls.
Spin N Pull Turtle toy measures 19.1 x 21.6 cms and weighs 849 g.
Sit with your baby and listen to sweet melodies while balls start going through the opening as you press down the button at the top.

Fisher-Price Babys First Blocks (Multicolor)
If you would like to introduce your child to this stacking toy from Fisher-Price that lets him sort and match the different blocks and helps him stay focused for long hours.
This set consists of 10 blocks that help your little one identify different shapes and colors.
Your child will develop his hand-eye coordination when he places the blocks inside the bucket. Grasping the blocks with his little hands will also strengthen his motor skills.
The canister comes with a shape-sorter top that helps your child match and stack the blocks.

Fisher-Price Chatter Telephone
Your little bundle of joy will have a gala time playing with this pull-along toy, as it comes in the shape of a colorful telephone, which is ideal for children aged between 1 and 3 years.
This telephone-shaped pull-along toy has adorable face whose eyes move as the baby pulls the toy on sturdy wheels.
This toy encourages the children's ability to chat, thereby enhancing their imagination and creativity. They also learn strolling, which develops their fine motor skills as well as balance and coordination.

Chicco Moon Musical Box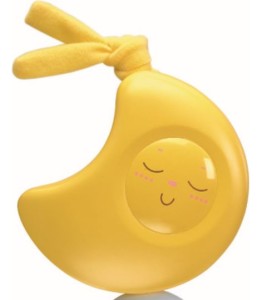 This Moon Musical Box from Chicco is just what every parent needs to lull their beautiful baby to sleep. Create a calm and peaceful environment around your child and let it create soothing dreams for your little baby.
This classic item features a brand new soft and rounded design. It comes in the pleasing shape of a yellow crescent moon with a smile and sleepy eyes. It ensures no sharp edges that can hurt the baby.
There is a ring at the bottom of the moon, which has to be pulled so that a sweet melody can start to play. It can be attached to the crib so that your baby can easily hear the soothing tune and be lulled into a deep slumber.
Ideal for kids between the ages of zero and two years, this musical box is not only a great tool for parents to use to try and get their little one to sleep, but it is also a great way to introduce children to music, which can lead to better cognitive development.

How & Where to Buy
Click on the link or button "Buy Now"
It takes to online shopping store for eg. flipkart.com/amazon.in
Click on buy now to add to cart. ~Pay using any ATM / Debit / Credit Card, Net Banking, COD etc.
Enjoy the shopping experience by saving the money and your time!