If you are looking for the best selling food processor then Philips is the best brand and quality food processor is an efficient appliance for your kitchen. It is loaded with handy accessories and smart technology. It uses PowerChop technology for superior chopping and effortless cooking.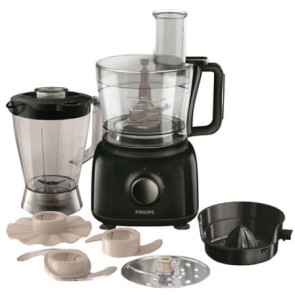 The Philips food processor employs stainless steel discs, an efficient emulsifying tool, and sharp stainless steel S blades for chopping. It also has a reversible stainless steel disc for slicing and shredding. It is an Eco-friendly appliance that also comes with a citrus press for squeezing juice.It has unique emulsifying tool that comes with the food processor is ideal for eggs and cream.
It has the citrus press helps you extract citrus fruit juices with minimal effort and mess.
This philips food processor has 2 speed settings and pulse. The higher speed setting (2) can be used to chop onions, meat, blend smoothies and soups. You can also shred, slice, grate and rasp vegetables by using the blades at speed 2. You may use the lower speed setting (1) for whipping cream, beating eggs or kneading dough.
The sharp and strong stainless steel blades come in an "S" shape for chopping vegetables. The blades are sturdy and durable, so that even when you chop hard vegetables, you get good results.
Reversible stainless steel disc for slicing and shredding is an ideal instrument for shredding vegetables which will give you coarse or fine results. The Philips food processor employs stainless steel discs
The food processor has been designed such that it can be assembled without any hassle. The 40% larger feeding tube lets you put in more number of fruits. The processor has an easy release suction feet. The processor has an integrated cord storage, so as to avoid entanglement and accidents in the kitchen.
The 40% larger feeding tube (as compared to the previous Philips HR7625 model) allows you to feed in large fruits without having to chop them before hand, saving you the pre-cutting time.
The 2.1 l bowl helps you make as many as 5 portions of soup or smoothie at a go.
The housing material & speed knob are made from ABS. The bowl, its lid and pusher are made up of Styrene Acrylonitrile (SAN), which has high resistance to chemicals and heat. The kneading tool, citrus press, emulsifying disc & knife holder are made of PP material. Chopping discs & knife are made from stainless steel.
The food processor runs on 650 watts of power and 220-240 voltage, to give enhanced results. The accessories are dishwasher safe.
Buy Philips Food Processor @ Flipkart.com
How & Where to Buy
Click on the link or button "Buy Now"
It takes to online shopping store for eg. flipkart.com/amazon.in
Click on buy now to add to cart. ~Pay using any ATM / Debit / Credit Card, Net Banking, COD etc.
Enjoy the shopping experience by saving the money and your time!