Brite Ladies Rechargeable Washable Shaver For Women (White) Price: Rs. 295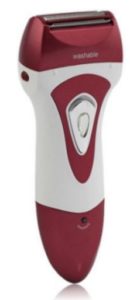 List Price: Rs. 1,499
Rs. 345 76% OFF
Selling Price
+ Rs 40 Delivery
The Brite washable shaver bls 8822 is a ladies' shaver designed for a smooth and comfortable shave.
The shaver is a foil type shaver that leaves a soft and silky skin.
This all-round ladies' shaver can be used both in and out of the shower to remove unwanted hair on your body.
The skin protection system on this shaver prevents your skin from rashes and injuries.
Comfort The Brite shaver features 40 guard teeth and 36 cutter teeth for an effortless and close cut every day.
The maintenance of this appliance is easy as you can easily rinse hair from the hair chamber and shaving head.
The gentle small shaving head of the shaver cuts quickly and easily. Body The body of this ladies' shaver has a slim design and fits comfortably in your hand.
The ergonomic hand grip allows you to shave efficiently. The protection cap of prevents the shaving head from damages.
The cleaning brush that comes with this ladies' shaver helps you to simply dust the hair off the shaving head.
Features The nickel foil blade of this shaver gives you a safe shave on your underarm and bikini line.
When you are shaving your legs and bikini line, stretch your skin with the free hand to make the hair stand upright.
How & Where to Buy
Click on the link or button "Buy Now"
It takes to online shopping store for eg. flipkart.com/amazon.in
Click on buy now to add to cart. ~Pay using any ATM / Debit / Credit Card, Net Banking, COD etc.
Enjoy the shopping experience by saving the money and your time!