Kenstar KSM35.WN1-MDA/QDL/ Split AC (1 Ton, 5 Star Rating, White) with 1+1 year Extended Warranty Free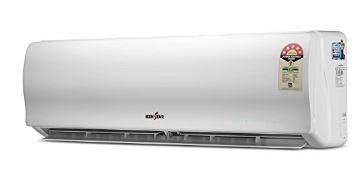 Price: 22,490
Sale: 21,990
Deal Price: 18,990 FREE Delivery
You Save: 3,500 (16%)
Split AC; 1 ton capacity
Energy Rating: 5 Star
This is the best selling Split AC in the year 2016
1 year comprehensive and 4 years on compressor
Condenser Type- Aluminium
This AC has capacity of one ton and a satisfactory five-star an energy efficiency rating, the Kenstar KSM35. WN1 Split AC is a value buy for homeowners looking for a well-engineered cooling solution for everyday use. With a maximum noise level of 33 dB, the AC can be said to be noise-efficient while operating, even if that is for longer hours. An ideal AC for the summers, this split AC comes with de-humidification and turbo-cool modes for achieving good cooling throughout the room. The two-way air deflection system makes way for uniform cooling as well.
LCD remote to turn on and off the AC and digital display for easier operation
Product is one of the best 5 star ACs at this price. Cooling is good and does not make noise. Installation and delivery was very smooth.
Worth the money paid for this AC.
Good cooling and smart sensors. Max half an hour on 24° and the room is cool.
Very nice product for 100-150sft room. Air throw is pretty nice as compared to other 1TR splits.
This Kenstar AC has below special features
Anti Bacteria Filter -This filter has a new purifying material with an excellent sterilizing and dust Collecting ability, when air passes through the filter, dust and bacteria are removed and clean is circulated into the houses.
Auto Clean – Removes all the condensed water on the evaporator and also avoids formation of mould/bacteria.
Blue Fin Evaporator – The indoor heat exchanger ( IDU) coil is pre coated with a Blue corrosive elements. This maintains the IDU in excellent and efficient working condition.
Silver Ion Filter – Silver ion filter net is a new high effect antiseptic product, which has the traits of antiseptic, free of pollution and environmental by putting the silver on the surface of the carrier. Adopting silver ion antiseptic filter can block the transmission of disease and be kind to the health of the people.
Dehumidification – Dehumidification mode sets the room at a comfortable humidity level without reducing the room temperature.
Turbo Mode – During peak summers it is a requirement for instant cooling, Kenstar AC's come with Turbo mode cooling for quicker cooling.
Night Glow Button: The remote control of the AC has night glow buttons. So, a user need not put on the lights at night to operate the AC. One can do so without moving away from the bed. Parents too can operate the split AC in kids' rooms from a distance without having to wake anyone up.
Installation: For requesting an installation or demo for this product once delivered, please call Kenstar support directly on (STD code) +39404040 and provide the product's model name
Available in Ahmedabad, Rajkot, Vadodara, Surat, Bangalore, Bhubaneshwar, Chennai, Cochin, Coimbatore, Delhi, Gurgaon, Ghaziabad, Noida, Indore, Jaipur, Kolkata, Lucknow, Nagpur, Patna, Raipur, Hyderabad, Mumbai and Zirakpur, Thane, Pune and Nashik
How & Where to Buy
Click on the link or button "Buy Now"
It takes to online shopping store for eg. flipkart.com/amazon.in
Click on buy now to add to cart. ~Pay using any ATM / Debit / Credit Card, Net Banking, COD etc.
Enjoy the shopping experience by saving the money and your time!