If you are looking for the baby stroller for your new born baby but you are looking for security and safety with the stroller then definitely you would required to look on the top branded stroller that helps the best quality safefy for your new born baby.
When you have new born baby at home then all the parents both mother and father will look online to shop for the stroller for their loved baby but this quite expensive deal to purchase the best quality stroller where you need to take utmost caution to look on all the models available in the market which is best in quality for your baby safety
You need to spend any where between around Rs 2000 to Rs 10000 etc ; so you required to set the appropriate budget to buy the good quality stroller that fits your new born.When you are buying the stroller you might required to look on the various things such as
Different styles and designs as there is no standards in the market
Can it be fold-able and unfold the stroller for use.
Can this stroller can be kept in the car for the movement from home to mall or shopping or to trips etc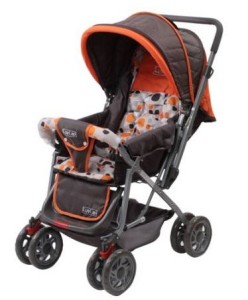 With this Luvlap stroller you can little attention to your kids as it will have all the safety measures and comfortably safe for whole day
This Luvlap Baby Branded Stroller is designed with your little baby's security and safety in mind. Below are the some of the key features available in this stroller
Belt straps ensures that your new born baby stays in place safely. These straps come over shoulders and around the waist. This means there is enough space for new born baby to be able to move around and stay engaged with toys too.
The Stroller handle can be made reversed, so that you can keep an eye on your precious bundle in every possible situation.
Stroller is equipped with eight wheels which are large enough to provide balance and smoothness while travelling.
Stroller rear wheels have brakes attached so you need not hold on to the stroller all the time, whether you are shopping or having a meal at a café.
The seat is made with soft, baby-friendly material and extra padding to make sure your baby is comfortable. This seat can also reclines at three angles, giving your child the ease of a quick snooze or the support to sit upright for a meal.
Stroller provids a canopy over the stroller. This protects your child from the harsh sunlight and gives him/her comfort.
Stroller has the mesh basket at the bottom which allows you to keep all your baby's belongings together for safekeeping.
This stroller is very good,excellent made and build with high quality, very easy to assemble and very easy to use.
Stroller can easily fold-able and can carry in the car boot.
Compare Price FlipKart.com V/s Amazon.in
 Flipkart.Com Price

Amazon.in Price
How & Where to Buy
Click on the link or button "Buy Now"
It takes to online shopping store for eg. flipkart.com/amazon.in
Click on buy now to add to cart. ~Pay using any ATM / Debit / Credit Card, Net Banking, COD etc.
Enjoy the shopping experience by saving the money and your time!