Price Details:
Original Price: Rs. 3270
Discounted price: Rs. Rs. 1624
You save: Rs. 1646(50%)
Inclusive of all taxes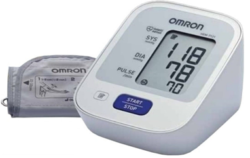 Product Description:
Worried about your health? If you have hit the 40s or anybody in your family has, it is absolutely necessary to go through routine tests and keep the blood pressure in check for that matter. With the Omron Blood Pressure Monitor Machine, you can at once measure your systolic pressure, diastolic pressure and your pulse just with the click of a button. It is digital and easy to understand. It is also reliable and trustworthy. When you get it at this offer, there is obviously no turning back. Plus, this is a necessity and in no way a luxury. So, hurry up and grab it immediately.
Brand: Omron
Category: Blood Pressure Measuring Machine
Condition: Brand New / Unused
Type: Upper Arm Velcro System
Battery Life: 1000 times
Special offers/ Product Promotions
Pay through Credit cards, debit cards, bank transfer or EMIs
Earn at least 65 Payback points when you buy this item. You can also redeem your existing points to get it at a lower price.
Reviews/Comments
Keep yourself healthy and fit as prevention is better than cure and it is better to be safe than sorry.

How & Where to Buy
Click on the link or button "Buy Now"
It takes to online shopping store for eg. flipkart.com/amazon.in
Click on buy now to add to cart. ~Pay using any ATM / Debit / Credit Card, Net Banking, COD etc.
Enjoy the shopping experience by saving the money and your time!