Things you should not ignore while buying Air Conditioners
As the summer is arriving very faster and you might get ready for the same to beat this summer. In order to beat the summer you required to look to buy the AC for you home. You have lot of confusion on what kind of AC you need to pick for you homes. There are 2 types are available in the market one is Split and Windows AC
Split Air Conditioners

Normally Split AC is better for your homes as it cools your home faster, more energy saving
It has wide blowers for quicker cooling, Humidity control, Inverter AC,More suitable for rooms that have less ventilation.
Convenient installation,Less noisy as compressor and condenser are located outside
Window Air Conditioners
A Window AC is a single compact unit that has all its components contained in one box.
Window ACs are good for smaller rooms, Compact, single unit,Ideal for small to medium-sized rooms
Which capacity to Buy
If you have living space of 100 sq. ft. room (or 10 x 10) will require an AC with a capacity of 1.0 T. There are different types available in the market 0.75 Ton,0.8 Ton,1 Ton,1.5 Ton,2.0 Tons
Check Power Rating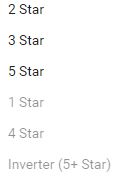 When you are buying you need to look on the savings as well it consumes too much power always look for better power rating (5 Star rating is the best ones.
Check for Better Filters

Also we need to look is it removes the dangerous substances from the air such as bacteria, pollen, dog hair, dust mites and other particles that are very small or invisible to the human eye.
You need to buy the rugged, high quality AC otherwise you will get into 100s of problems such as air conditioner may stop working after some time due to compressor problems or there is leakage. Always goes for AC which has good quality flters and coils
AC Popular Brands to choose from
Voltas,Daikin,O General,Mitsubishi,LG,Lloyd,Hitachi,Samsung,Blue Star,Carrier,Panasonic,Onida,Videocon,Haier,Godrej,Whirlpool,Sharp,Electrolux,Carrier Midea,IFB,Midea,Croma
Service Centers
Look also the kind of post sale services which they provide from the brands. Look for the kind of service centers available by near to your place and satisfy by asking your neighbors who has bought similar AC etc
How & Where to Buy
Click on the link or button "Buy Now"
It takes to online shopping store for eg. flipkart.com/amazon.in
Click on buy now to add to cart. ~Pay using any ATM / Debit / Credit Card, Net Banking, COD etc.
Enjoy the shopping experience by saving the money and your time!