If you're a photograph lover, you might be confused in picking out best tripod and monopod and sometimes between them. So, lets know about them with its utilities and features.
Tripod is a three-legged stand used to provide camera a sturdy platform to avoid camera shake when using slow shutter speeds. It is very useful in rendering blur effects and for long exposure. It is also widely used in general life and studio photography.
Monopod is a lighter alternative of tripod, can say. It is a single-legged support to mount camera or lens. It provides versatility in movements and it is reliable for instant setups.
So, depending upon the necessity of photographers, here is the list of picked top ten tripods and monopods in India 2021. It will guide you to take better decision for buying them.
Top 10 : AmazonBasics Lightweight Mini Tripod
It is a mini tripod with adjustable height metal legs and rubber feet. It can take up maximum load of 0.5 kg for optimal performance. It can extend itself from 4.76-7.50 inches. Its mini ball head allows 360 degree rotation and 90 degree tilt.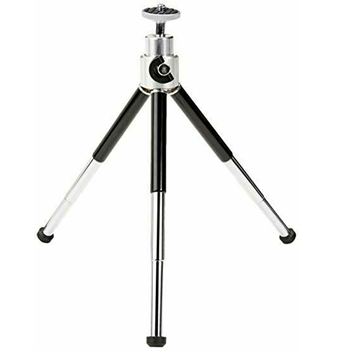 It is compatible for all small digital cameras, GoPro devices, webcam and smartphone adapters. It is handy and mainly used for travel purpose. It is reliable accessory for timed shots and higher resolution pictures. It is mainly bought as an accessory for business travel, outdoor adventures and family trips.


Top 9 : Rewy 3 Way Pan and Tilt Tripod
It is a camera holder whose lengh can be raised up to 150cm. It is a universal phone holder with elastic and stretchable phone bracket capable to clip 5.5-8.8 cm width's phone. It is equipped with level tester and centre shaft jacking system. It has three-way head for changing the orientation of the ccamera. It is also featured with its lever-lock legs, each with four extendable sections to better grip and support.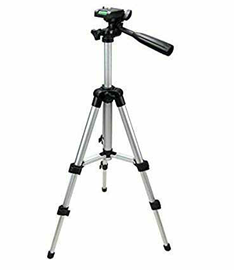 It is a light weight tripod allowing the photography in professional styles. It comes with user-friendly features. It is capable to hold every types of cameras along with mobile phones. It is portable and reliable. You can also take full panoramic clicks with its 360-degree swivel rotation.


Top 8 : SICHER Gorilla Mini Tripod
It is a flexible, lightweight and 360-degree rotatable tripod. It has rubberized ring and foot grips for extra stability. It comes with a package of 10 inch large gorillapod, universal phone holder and bluetooth remote to command mobile camera action.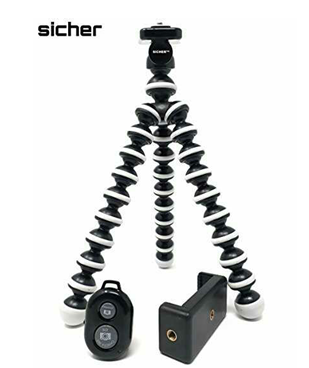 It is flexible as well as strong and lightweight. It is specifically designed to hold the grip allowing better platform to capture the moment. The bluetooth remote increases its reliability and bring the photographer in the scene.


Top 7 : Syvo 3110 Foldable Camera Tripod
It is an adjustable camera and phone holder for novice and professional photographers. The phone bracket is automatically elastic and stretchable which can clip 5.5-8.8 cm width's phone. It has 3-way head allowing camera for versatile photography. It is also facilitated d with level tester and centre shaft jacking system.
It is fully flexible mount cum tripod. It comes with 3D head and quick release plate. It is highly accessible and portable. Camera installation is very easy using this tripod. Moreover, any phone can be held using this accessory.


Top 6 : M Memore 40.2 Portable Camera Tripod
It is capable to mount all the cameras and mobile phones. It has a 3D head and quick release plate for amazing shot. It is made up of good quality material making it adjustable and lightweight. The length can be raised up to 105 cm. It has lever-lock legs with four sections for great accommodation. It also comes with level tester and centre shaft jacking system.
It is capable to rotate 360-degree for full panoramic clicks. Its lever-lock legs with extendable sections allow to raise the height of individual leg. It is compatible to all cameras and mobile phones. It is user-friendly tripod.


Top 5 : Photron Stedy 450 Tripod
It is a sturdy, reliable and flexible support to the camera. Its 3-way pan head makes it portable and easy to carry. It comes with non-slip foam grip to avoid falling of camera while clicking pictures. Its maximum height is 4.5ft while load capacity is 2.75 kg. It has built-in level meter along with quick flip lever leg locks. It also has extra quick release plate and 4.5 ft pan head. Carry case is also provided with the tripod.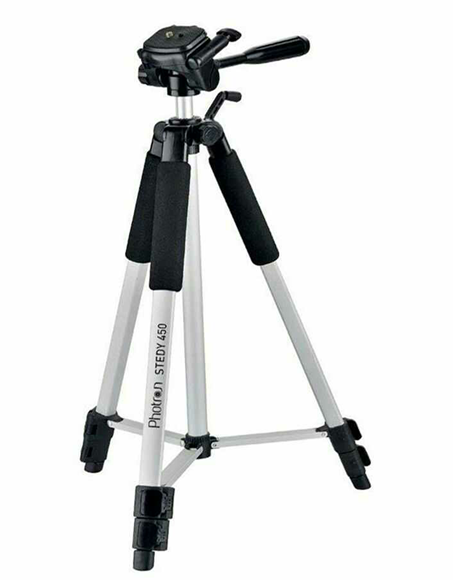 This tripod is durable and flexible. It uses simple technology for ideal picture clicks. It can be accommodated easily in daily routine bags. It is fitted with swivel set scuff-proof rubber feet for further stability. It is a good professional tripod.


Top 4 : M Memore Universal YT-228 Mini Tripod
It is composed of non-slip flexible rubber legs and feet for stable and secure camera platform. It can clip 5-7.7 cm width's phones. Its height is 25.5 cm and it supports weight up to 500 gm. It is compatible to mobile phones, micro camera and digital camera.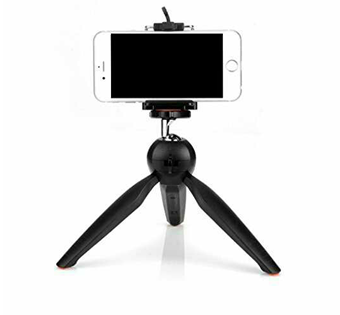 It is highly affordable tripod stand. It is compatible for family and friends trips and for daily use too. It is lightweight and extremely portable. It can be mounted on vertical surfaces easily. It has adjustable ball head for multiple angle shooting with 180 degree position.


Top 3 : AmazonBasics 60-Inch Lightweight Tripod
This tripod is perfect for cameras upto 6.6 pounds. It give its user easy and instant access. The tripod's leg can raise from 20" to 48". It has two built-in bubble view level detectors along with quick release mounting plate. It is compatible with almost all the video cameras, digital cameras, still cameras, GoPro devices, smartphone adapters and scopes.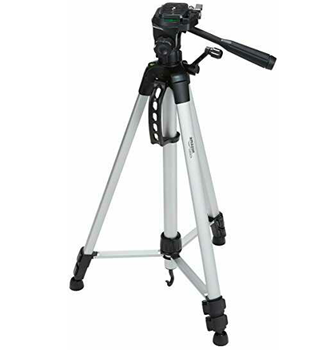 This camera is best for professional use. It is portable and durable as well. Its zippered carrying case make it easy to carry. It positions itself better with rubber feet and built-in levels. One year of warranty is also provided with this product.


Top 2 : Marklif Mini Aluminium Alloy Tripod
It is a brand new tripod having lever-lock legs with extendable sections. The legs can be adjusted individually and can be raised up to 105 cm. It is compatible to all the cameras and smartphones. It is featured with a pan-tilt-swivel head with bubble level. It is not for heavy camcorders.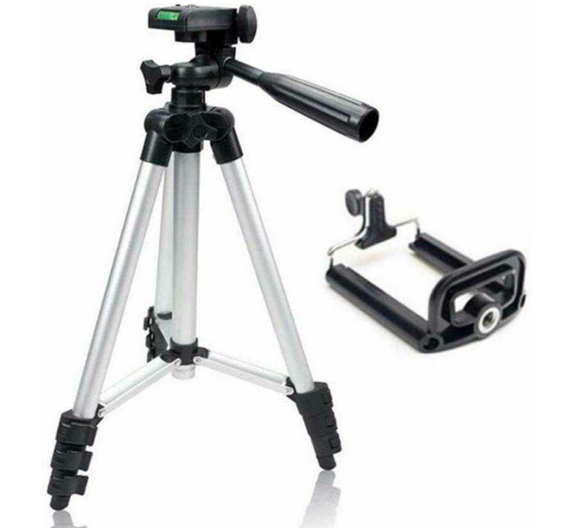 It can be set up easily and capable to clip all type of smartphones. It is especially designed for part time photographs lover. It also looks great along with all its inbuilt features. It is one of the best sellers in tripods.


Top 1 : AmazonBasics 50-Inch Lightweight Tripod
This tripod is suitable for digital, video and still camera. It can extend up to 50 inches high. It is made up of aluminum and weighs just over a pound. It has three sections lever-lock legs for better adjustments. It also comes with quick-release plate and a zipper bag to carry easily.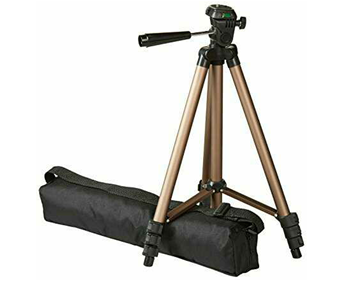 This tripod stand has all the qualities required for a camera holder. It gives fast transitions between shots. It is designed for professional newbies and experts as well. It is the best tripod stand facilitated with its user-friendly behavior.

Conclusion
So, here was a complete list of top ten tripods and monopods best for different types of usage. Nowadays, mini tripods are getting famous for family photo clicks and skype chats as a mobile phone holder. It is the basic accessory essential for every photographers. Hence, it can be very beneficial for them to decide their new tripod.
How & Where to Buy
Click on the link or button "Buy Now"
It takes to online shopping store for eg. flipkart.com/amazon.in
Click on buy now to add to cart. ~Pay using any ATM / Debit / Credit Card, Net Banking, COD etc.
Enjoy the shopping experience by saving the money and your time!