If you are looking to buy the best priced helicopter for your loved ones who needs to the flying experiences with these helicopter toys which they can control and operate using the remote control. I have listed the best selling helicopter toys online from flipkart.com which you can pick to choose from it to buy.
The Flyer's Bay 3.5 Channel Helicopter (Multicolor) Price: Rs. 1,499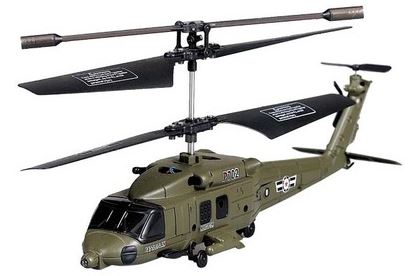 Fly this Flyer's Bay 3.5 Channel Helicopter and impress your buddies with its cool antics.
The 3.5 channel inbuilt infrared device in this helicopter lets you control it from a distance of about 10 meters.
Ideal for all aged 5 and above, this helicopter is equipped with an advanced inbuilt gyro for a stable flight. You can not only turn the helicopter left, right, forward and backward, but also ascend, descend, and hover it in mid-air.
Like every other product from Flyer's Bay, this helicopter is also fabricated from the highest quality materials, which makes it very strong and durable.

The Flyer's Bay – 4 Channel RC Avatar Fighter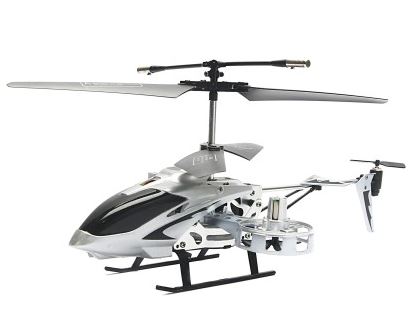 This helicopter is recommended for people over the age of 8, this 4-channel, remote-controlled toy helicopter can fly upwards, downwards, sideways, backwards and forwards, so you'll have loads of fun while flying it. Feel your spirit soar as you play with this chopper!
Possessing a control range of 25 metres, this radio-controlled toy helicopter can fly upwards, downwards, sideways, forwards and backwards.
This helicopter comes with an in-built battery. The remote control needs six 1.5-volt, AA-sized batteries to work. There is an external charger that you can use to charge the helicopter. This chopper can fly for up to 8 minutes at a stretch.
This chopper is ideal for people over the age of 8. So, even an adult can have an unforgettable time of fun with their kids by playing with this toy.

Toyhouse Speed Helicopter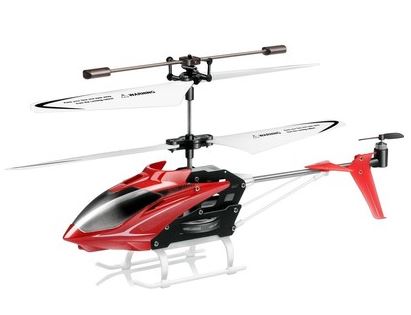 With the Toyhouse Speed Helicopter, you can enjoy hours of fun and entertainment with your kids. This toy is for children between the ages of 5 and 15. It has a Gyroscope function that helps you stabilize the helicopter while it is in mid-air.
This toy helicopter is controlled via remote. The remote control features two analog sticks – one that moves the helicopter up and down and one to move it from side to side and front to back. The remote control requires 4 AA batteries.
The helicopter is fitted with flashing lights which add whole new level of excitement when playing with this toy. The flashing lights allow you to fly the helicopter at low-lit areas and can help you search for items in hard-to-reach places.
The toy helicopter is equipped with a Gyro Function that makes it easier for you to fly it around. The built-in gyro feature gives you more stability when flying, allowing for more fun time with the helicopter.
The helicopter is designed with an added level of security thanks it auto-off feature. The power will automatically get cut-off once the helicopter blades if any of the blades get disrupted.
This toy helicopter is equipped with a 3.7V 150 mAh Lithium Polymer battery that takes up to 1 hour to charge. You can even charge the helicopter through a USB cable. Just connect it to your computer for about an hour and you're good to go. A full charge will give you up to 8 minutes of flying time.

Syma S107 & S107G RC Helicopter (Red, Black) Price: Rs. 2,499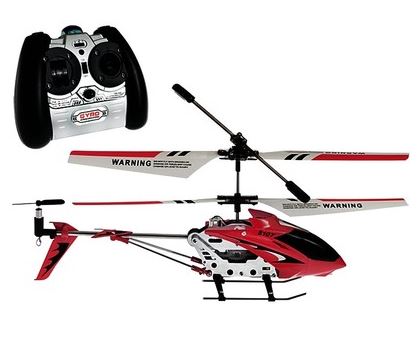 Now spend more quality time with your children by flying Syma's remote-controlled helicopter together, and enjoy lots of cherishing moments.
Equipped with a 3 channel inbuilt infrared device this helicopter can be maneuvered in all directions – left, right, up, down, forward and backward.
Ideal for anyone above 14 years of age, this helicopter comes with the latest gyro technology for a smooth and stable flight.
To give it a more realistic appeal this marvelous helicopter comes with flashing search lights.
Added to the other amazing qualities, this helicopter also has an auto-power off feature that automatically stops the helicopter when it gets stuck between things, thus making it safe to fly indoors.

Wings Fly high falcon (Yellow, Black, Silver) Price: Rs. 749

Because the Helicopter is operated Ray control .It Is importent to make sure you are always using fresh and Fully charged batteries .
Never allow the batteries to run low or you could of the helicopter. You Should Complte a successful range check of your radio equipment prior to each new day of flying.
Always turn on the transmitter before plugging in the Flight battery and always Unplug the Fight battery brfore Turning off the transmitter.

How & Where to Buy
Click on the link or button "Buy Now"
It takes to online shopping store for eg. flipkart.com/amazon.in
Click on buy now to add to cart. ~Pay using any ATM / Debit / Credit Card, Net Banking, COD etc.
Enjoy the shopping experience by saving the money and your time!