If you are looking to buy the laptop(toy) for your kids, using these laptops you can learn the basics of  numbers, letters, identification skills, among others, in a fun way.
Nowadays the Kids are more inclined towards technology can be given an advanced kid's laptop or a robot.
If you wanted to give the best quality laptop toys for your kids or gift to some one of your friends kids at the at reasonable prices. I have listed the best quality laptops (Toys which you can choose from below list
Quinxing Laptop with 30 Activities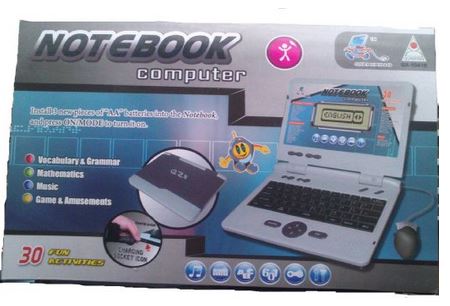 The cost of this laptop for sale is  838.00 + 125.00 Delivery charge Cash on Delivery eligible
Inclusive of all taxes
This laptop has great features of 30 in 1 stylish super-slim, talking educational laptop with, a functional mouse
Using this laptop encourages kids in learning English, Mathematics, games & music
Below are the some of the key features supported by this laptop toys
Vacabulary & Grammer
1. Missing Letter
2.Spelling Correction
3.Scrambled Word
4. Extra Letter
5. Anagram
6.Plural,
7. Antonym
8.Flash Memory
Mathematics
9.Addition
10.Subtraction
11.Multiplication
12. Division
13.Completing Equation
14. Smaller/Larger,
15.Numbering Logic
16.Percentage
17.Algebra
18.Geometry
Music
19.KARA-OK
20.Dance to Music
21.Music Maker Games & Amusement
22.Keyboard Typing
23.Typing Practice
24.Stone-Paper-Scissors
25.Tower of Hanoi
26.Shape Puzzel
27. Discovery
28. Tic-Tac-Toe
29.Grand-Prix
30.Demo

PraSid English Learner (Red)
Price: 549.00 FREE Delivery.Details
Cash on Delivery eligible.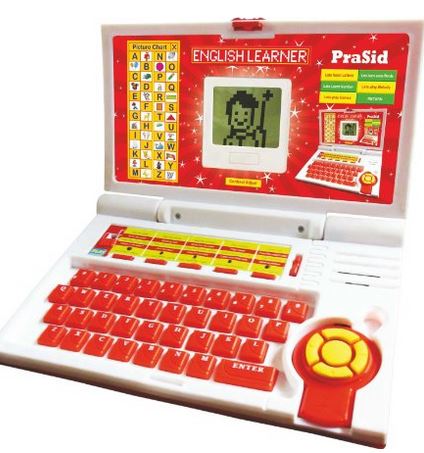 Prasid English learner kid's laptop with 20 activities. This english learner laptop encourages creative learning in your child.
Your kid learns new words, goes through spelling test and learns to identify the pictures with names. A laptop shaped english teaching toy with an inbuilt lcd screen, sound instructions, key pad and mouse control gives your child an exposure to computers. It has an auto shut-off mechanism which helps save battery.
It has three levels of difficulty. It is easy to maintain. It is made of durable child-safe plastic that does not break easily. It is also easily cleaned using a damp cloth.
Packed in individual colour box.
Step 1 – learn alphabets, alphabets recognition and pronunciation, write capital and small letters, find the letter, (it will speak out the letters- which the child needs to punch in).
Step 2 – learn words, learn spelling and pronunciation, spelling test. Identification of pictures find the word.
Step 3 – learn numbers, learn the correct pronunciation and spelling of numbers learn to write the numbers, numbers identification (visual), number identification (verbal).
Step 4 – learn musical notes, play melodies, play musical notes. Recognize musical notes (visual and verbal).
Step 5 – play games, catch falling objects, find the matching pair, star shooting, draw a picture.
Note: Battery not included.

Ben10 English Learner (Green)
Price: 515.00 + 150.00 Delivery charge Cash on Delivery eligible.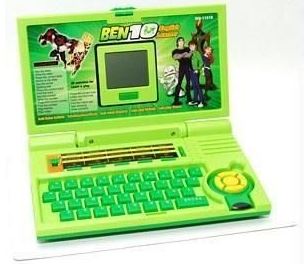 Helps in alphabet recognition & pronunciation, spelling test, identification of pictures etc.
Interesting visuals promote easy comprehension
Suitable for gifting to your Ben10 fan
it displays time in digital mode which can also show the date and month on pressing of a button

Laptop Education Learning Toy Compact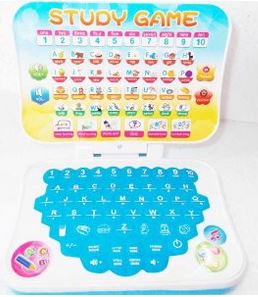 Price: 261.00 + 60.00 Delivery charge Cash on Delivery eligible.
Inclusive of all taxes

How & Where to Buy
Click on the link or button "Buy Now"
It takes to online shopping store for eg. flipkart.com/amazon.in
Click on buy now to add to cart. ~Pay using any ATM / Debit / Credit Card, Net Banking, COD etc.
Enjoy the shopping experience by saving the money and your time!